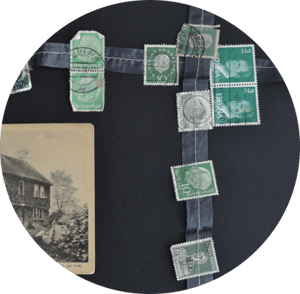 $

10.00
made with our collected vintage international postage stamps, is a limited edition of postage stamp garlands.
sewn to vintage french milliners ribbon, measuring approximately 115cm (45") in length. comes with a genuine vintage postcard.
each garland is beautiful & entirely one-of-a-kind.
these stamps have their very own history to tell - perhaps carrying a love letter to a long distance beau, a birth announcement to a father absent through war - whatever their journey they are a tiny relic of somebody's story.
your own little ribbon of postal tales.